9th September 2007
On behalf of everyone at PakPassion.Net, we'd like to thank Rana Naved for taking time out to do this exclusive interview for PakPassion.Net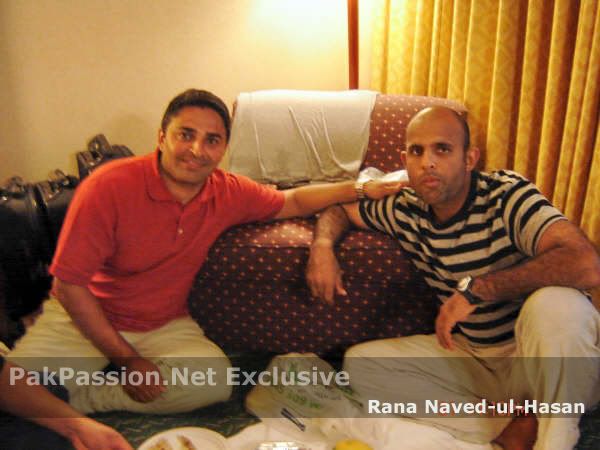 PakPassion.Net:
Tell us a little bit about your early life. Where did you play in your childhood and what hardships did you have to endure to get where you are now?
Rana Naved Ul-Hasan:
I was a hockey player who after a serious knee injury, started playing cricket at the Goverment High School in Sheikhupura, then played for Lahore Division. I played domestically for Pakistan Customs. I was lucky enough to be selected for Pakistan's "A" tour of New Zealand in 94/95. I was top wicket taker in domestic cricket in 2002 and made my debut for Pakistan in 2003. I've always worked hard to make my way through the system at junior, Under 19 and at "A" level in order to get noticed.
PakPassion.Net:
When you started your sporting career, you were mainly associated with hockey. What made you switch and decide to take the cricket route rather then hockey? Was it inspiration from a certain player that you admired, or maybe just because you thought you were better at cricket?
Rana Naved Ul-Hasan:
That is correct I was a hockey player right up to the age of 16. I suffered a very serious knee injury and after surgery was advised complete rest from all sport for a year by the doctors. However despite the advice from the doctors, I would sneek out and play cricket in the street. I enjoyed wicketkeeping and batting in those days and that got me interested in playing cricket. Once I got into playing cricket and enjoying it, my family said that if I wanted to take up the game, then to take it up properly, rather than just in the streets.
PakPassion.Net:
Who were your cricketing heroes whilst growing up? Did you model yourself on any player?
Rana Naved Ul-Hasan:
My heroes have always been Waqar Younis and Wasim Akram. But being right arm, Waqar Younis was the one that I admired the most and its no secret that I modelled my bowling to a certain extent on Wicky bhai.
PakPassion.Net:
Pakistan normally debut players in their late teens or early 20s, you're one of the few players who got into the team in your mid-20s. Do you feel it was harder for you to establish yourself because of this? Do you feel Pakistan debut players too young?
Rana Naved Ul-Hasan:
I was 25 when I debuted in 2003 which by Pakistani standards can be regarded as quite late. I felt I had the advantage that I had played a few years of domestic cricket and had experience. The trend has always been in the past to put in youngsters in the team, sometimes when they are not quite ready. The thing is the PCB should have these players as backup to the main bowlers, and give them a chance when the opportunity is there instead of throwing them in when they are not ready. I also feel that to blood too many youngsters in a team at once can be a big mistake. Take India's one day team for example, the only experienced bowler is Zaheer Khan.
PakPassion.Net:
Who's the best batsman you've ever bowled to, who did you hate bowling to and who was the hardest to get out? And Why!
Rana Naved Ul-Hasan:
Without any shadow of a doubt the answer to all those questions would be Brian Lara. A delivery that would beat or even get other players out, he has the ability to hit to the boundary.
PakPassion.Net:
What have been the highest and lowest points in your career so far?
Rana Naved Ul-Hasan:
The high point was Jamshedpur in India where I took 6 wickets in a one day match. To do that against India and in India was great. The low point would be last year at Edgbaston where I only bowled 2 overs for 22 runs in a low scoring one dayer.
PakPassion.Net:
On PP we call you Rana Banana because you swing the ball so much! How do you manage to get so much natural swing? Do you prefer bowling with the new ball or with the old ball and why?
Rana Naved Ul-Hasan:
Its Allah's gift to me. I am lucky that I have the talent, largely down to my side on action. A lot of bowlers are front on but I prefer to bowl more side on which helps with the swing and of course good rhythym on any given day can help with the swing. I prefer bowling with the new ball, especially when the ball is swinging, although i enjoy the challenge of bowling at the death too.
PakPassion.Net:
How do you hold the seam position for the inswinger, outswinger, and the reverse swing? Also how do you hold the seam for the slower ball since you have such a good slower ball?
Rana Naved Ul-Hasan:
Its all to do with which way I have the shiny side, rather than the seam position. I feel that the more air you give the ball, the more chance it has to swing. My slower ball (while I have a few varieties) I tend to stick with the back of the hand version. I worked on the slower ball myself, rather than any coach teaching me it. I recall bowling it in the nets to a colleague and the batsman saying that he didnt pick it at all. After that I kept on experimenting and working on it. Its a difficult ball to bowl, especially in pressure situations.
PakPassion.Net:
Since your injury in England I have noticed some differences in your action. Your jump isn't that prominent and your right foot isn't going as high and across as it used to. Is it because the injury has not healed properly or you are still feeling the after effects of the injury?
Rana Naved Ul-Hasan:
Yes you are absolutely correct in your observation. I had a very bad groin injury which troubled me for a while. It was a niggling injury that was recurring. My action was slightly different after that injury, but now by the grace of God I feel that my action has been fully restored. It was a mental thing where I thought that the injury would reoccur if I put too much pressure on it.
PakPassion.Net:
You have a huge variation of deliveries which is amazing for a fast bowler. However sometimes you seem to try too many different deliveries in the same over rather than working on a player and then surprising him with a different delivery, Is this something you're working on or do you prefer operating like this?
Rana Naved Ul-Hasan:
I prefer to experiment with my bowling as I feel that (especially in one dayers) a bowler has to experiment. If you dont experiment a bowler can become predictable especially for the top batsman.
PakPassion.Net:
Is it true that you once said you didnt think you were a 'test player' and wanted to concentrate on ODIs? Which do you think is the better game, test or ODI? And would you like to break into the test team?
Rana Naved Ul-Hasan:
I feel that my game is more suited to the shorter version but that is not to say that I dont feel I am good enough or dont have the desire to play test cricket. I feel that on a few occasions I have been selected for the Pakistan test team when not properly prepared and as a last minute replacement when one of my colleagues got injured. Also there hasnt really been the continuity in selection for myself. Its been a case of in and out of the test side. Inshallah though I hope to be back in the Pakistan team soon and thats what I am working on.
PakPassion.Net:
You have shown talent with the bat at international level. Is batting something you're working on and would you like to become a true all-rounder with both bat and ball? What position do you think you can bat at in the Pakistan team?
Rana Naved Ul-Hasan:
When I started playing cricket at junior level I was a batsman who kept wicket sometimes. However I have worked more on my bowling in recent times rather than my batting. I have batted as high as number 4 in domestic cricket and have 3 centuries to my name in domestic cricket. Also its difficult to do much with the bat when batting at number 9, 10 or 11. Who knows maybe I will get a chance batting higher up the order.
PakPassion.Net:
Rana Bhai, let me say that you won the hearts of a grateful nation when you continued playing for Pakistan after hearing about your father's death during the Australian tour in 2005. Can you please describe your feelings then, why you took that decision and what kind of support you recieved from your team mates and management.
Rana Naved Ul-Hasan:
It was the day after Younis bhai's father had passed away. I was in Australia playing in the triangular one day series. I returned to the team hotel to be told of my sad loss. The team management really looked after me and my team mates were very supportive too. They asked if I wanted to go back to Pakistan, but after consultations with my family I decided to play on for my country and also the fact that it would have taken me 3 days to reach home due to travel problems. I couldnt believe the fact that the man who used to hold my hand and take me everywhere when I was a little child, was no more. My father always said to me that whatever you do in life my son, always give it 100% effort. The last match that my father watched of me was in that tour of Australia where he said that I would take 4 wickets, he watched me take 3 but was not around to watch me take the 4th wicket that he had predicted.
PakPassion.Net:
In 2005 you were probably the best ODI bowler in the world, in 22 ODIs you took 45 wickets at an average of 21.53. How did it feel to be in the middle of such an awesome run of form? What are your best memories from that period?
Rana Naved Ul-Hasan:
It felt great of course and my rhythm and form were superb as well as my confidence. It was like a dream come true for me. Everything was going right. I was selected in the ICC World One Day XI and they sent me a cap to mark that. However it also made me realise to enjoy the good times, as they dont always last forever.
PakPassion.Net:
During that period you kept thanking Waqar Younis and crediting him for your match winning bowling. Please tell us the story behind this statement.
Rana Naved Ul-Hasan:
Yes Waqar bhai was around at some of the camps we held. He was a great help to me in looking at some technical aspects of my bowling. He worked with me on the issue of reverse swing, we worked on my runup and made a couple of adjustments as well as looking closely at my bowling action. He was a huge boost and inspiration for me.
PakPassion.Net:
What do you think went wrong after that tremendous 2005 year you had? The swing was gone and the excellent control that you normally had was evidently not there, also your leap became a little less pronounced. Did someone at Sussex advise you to change your action, was it the lack of rhythm or was it an injury that wouldnt go away?
Rana Naved Ul-Hasan:
One of the biggest problems and issues that I had was the groin injury. Injuries sometimes have a bigger effect on you than you think and can hinder your confidence and self belief. I came back and didnt feel as strong as I did before the groin injury. This then meant that I felt under added pressure and felt that my place in the team was under threat and the fear of being dropped also resulted in the loss of form.
PakPassion.Net:
That delivery you bowled Justin Langer with in the Sydney Test was one of the greatest deliveries I've ever seen, how did it feel to get the ball so perfect? What's your own personal favourite deliveries that you've bowled in International cricket.
Rana Naved Ul-Hasan:
Haha. Yes I remember the Langer delivery very well and undoubtedly it was my best ever delivery. For a swing bowler like myself to beat a player as great as Langer all ends up was a great achievment. The wicket was slow and perfect for batting which made it even more enjoyable. Another one that I enjoyed was Runako Morton where once again I beat him with a big swinging delivery.
PakPassion.Net:
You've been a phenomenon for Sussex as a county player, how have they treated you and do you plan on continuing with them next season? Will the changes in the International player allowances next year affect your decision?
Rana Naved Ul-Hasan:
Sussex have been absolutely great to me. They have looked after me and my family really well. They are a very well run club, very professional and very close too, very much like one big family. Whatever I do in the future I will always remember my time at Sussex with fond memries. As far next season goes, we will just have to see as nothing has been finalised as yet.
PakPassion.Net:
Apart from Mushy and Saqi, which players have you been closest to whilst playing country cricket?
Rana Naved Ul-Hasan:
Yes obviously I am very friendly with my Pakistani colleagues Saqlain and Mushtaq. One of my other best friends at Sussex is Michael Yardy. In the Pakistan team, Shoaib Malik and Imran Nazir are also very close to me and good friends.
PakPassion.Net:
Your performance for Sussex this season hasn't been up to the hugely high standards you've set in previous seasons, do you have any theories as to why?
Rana Naved Ul-Hasan:
I think I have done quite well actually. I have taken 46 wickets in 12 County championship matches and of course we sit at the top of the table going into the last 2 matches.
PakPassion.Net:
What's your opinion on the ICL league? Have you been approached by them and if you were would you consider joining them? Would it make a difference if you knew you wouldn't play for Pakistan again?
Rana Naved Ul-Hasan:
Its not something I have even thought about. I have not had any approaches from ICL. At the moment I am concentrating on giving my all for Sussex, then going back to Pakistan and having a strong season in domestic cricket and then fighting to regain my place in the Pakistan team.
PakPassion.Net:
Is the PCB keeping in touch with you and has the new coach Geoff Lawson been in contact about a comeback or even to see how you are?
Rana Naved Ul-Hasan:
I havent heard from Lawson since he took over but PCB staff have kept in touch with me throughout the course of the season. They regularly check with me as to how things are progressing this season at Sussex.
PakPassion.Net:
What parts of your game do you think you need to improve in order to make it back to the national squad and do you think county cricket is a good way to improve in those areas?
Rana Naved Ul-Hasan:
I think good performances in County cricket are acknowledged by the PCB. If I continue to give good performances at Sussex and then back home in domestic cricket then hopefully the selectors will take note. I am determined to go back this season and give a very good performance in domestic cricket.
PakPassion.Net:
You've had a real roller coaster ride in the Pakistan team, it must have been a great learning experience both as a sportsman and as a human? Would you like to share some thoughts on that!
Rana Naved Ul-Hasan:
One of the most important things I have learnt is not to get too disheartened. The good days and the bad days go hand in hand in professional sport and it will do you no good to keep on thinking about the bad times. Nobody performs badly on purpose and I'm someone who always gives everything I have. I feel that hard work always pays off. If you are prepared to work hard then eventually that hard work will come good. I also like to think positively and to the future.
PakPassion.Net:
What are your plans after you retire from cricket?
Rana Naved Ul-Hasan:
My family and I own land back home in Sheikhpura and this is something that we work on. Also perhaps I may get into some sort of business...lets see what Allah has in store for me.