by Abdul Habib
Mohammad Irfan is a 6'10 left handed fast bowler who was brought to the attention of Aaqib Javed and the National Cricket Academy in Lahore by PakPassion.
I did
an interview with Nadeem Iqbal
over a year ago where he told me about Irfan and his height. Nadeem also mentioned how it was impossible to get good players first class contracts without having someone well-known onside who could put in a good word. Irfan had been struggling to get into first class cricket for many years despite having something so unique, a near 7 foot fast bowler doesn't come around every day!
Irfan's fortunes changed earlier this year when I got the chance to
interview Aaqib Javed
for PakPassion.Net. During the interview I asked him if he was aware of Mohammad Irfan, when Aaqib said he wasn't I asked him to take a look at Irfan and gave him Nadeem Iqbal's contact details.
Aaqib phoned Nadeem and asked him to send Irfan down to the NCA so he could take a look at him, Irfan went to the NCA and his potential impressed everyone who saw him. Aaqib got the NCA to take Irfan on and now he's living in Lahore getting daily training in preparation for being unleashed on the first class circuit by around October of this year!
This is a very exciting story for both Irfan and for PakPassion.Net because it's not every day that a fan website uncovers someone who could go on to become a future star!!
Irfan is working hard and having fun meeting the big names in Pakistani cricket on a regular basis. Below is part 1 of the interview and to start you off we have a photo of Irfan posing with the Inthikab Alam the Pakistan coach and Saboor Ahmad the NCA's fitness trainer!
I hope you enjoy the interview.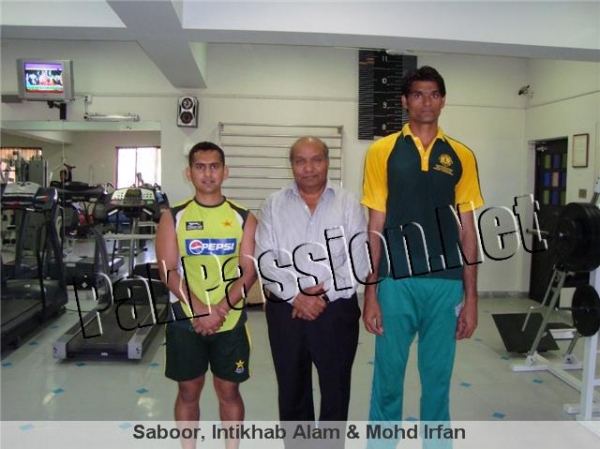 PakPassion.Net: Are you the first cricketer in your family or have there been others?

Mohammad Irfan:
No, I'm the first. I'm the youngest of 5 brothers and I'm the first one to try and get into cricket. I also have two sisters, altogether we're 7 siblings.
PakPassion.Net: Who were your cricketing heroes when growing up?

Mohammad Irfan:
Waqar and Wasim were my favourites, I just loved to watch them bowl together. I was also a big fan of Aaqib, so getting the chance to work so closely with him is like a dream come true. I've always enjoyed Lara's batting but Ambrose really caught my attention because he was a tall fast bowler like me, I've tried to learn as much as I can from watching videos of him.
PakPassion.Net: Have you ever played any other sport? Were you good at it?

Mohammad Irfan:
I played basketball for the army for a little while, one of their guys saw me and asked me to play because of my height. I was good at it and I enjoyed my time there but my heart was always in cricket, so I left the team and came back.
PakPassion.Net: Did you play cricket for your school team?

Mohammad Irfan:
Not until my last year in school. During one of my school games I was spotted by a local club from Gaggu Mandi (which is close to my village). At the time I was playing barefoot and didn't have a clue what I was doing but they saw potential in me and took me along to play with them.
PakPassion.Net: Did you ever go for youth trials?

Mohammad Irfan:
I got into cricket relatively late and by the time I started thinking I could make it, I was too old or too inexperienced to be considered for the various youth levels.
PakPassion.Net: How old are you now?

Mohammad Irfan:
I'm 23.
PakPassion.Net: What about first class trials?

Mohammad Irfan:
I'm from the Multan region and I have been for trials, one time I was even named in the reserve squad but I never got a chance to play. The other times I wasn't picked.
PakPassion.Net: Exactly how tall are you?

Mohammad Irfan:
I was measured at the NCA and I'm exactly 6'10 according to them. This is the first time since I've been measured professionally, I did go to a guy back in Multan who said I was over 7 foot but the NCA have said that he's wrong and that I'm only 6'10
PakPassion.Net: Is your height due to a medical condition or is it genetic?

Mohammad Irfan:
It's genetic, it runs in my family. One of my brothers is 6'5, another is 6'3 and my dad is as tall as me.
PakPassion.Net: Are people intimidated by your height?

Mohammad Irfan:
(laughs
A little bit but not really. Everywhere I go people are really nice and friendly, everyone wants to come over and talk. Some of them want to have their picture taken with me and others want to know how I got so tall. It's all good natured. I get a lot of attention, especially in busy places like Lahore but not as much as when I went to Malaysia a couple of years ago.
PakPassion.Net: One of our members wants to know how he can be as tall as you? (laughs)

Mohammad Irfan:
(laughs)
I dont know. I've always been tall, I guess it's God's blessing.
PakPassion.Net: So he should start praying then?

Mohammad Irfan:
(laughs)
Yes, that's probably the only way to do it.
PakPassion.Net: Have you always been really tall or did you experience a growth spurt?

Mohammad Irfan:
There was a growth spurt between 15-17 years of age where I grew really fast. You know, I think I'm still growing.
PakPassion.Net: I've heard that you stop growing when you're 21.

Mohammad Irfan:
I hope that's not true, I'd like to get a few inches taller.
PakPassion.Net: Now you're just being greedy. Aren't you tall enough already? (laughs)

Mohammad Irfan:
(laughs)
Insha Allah (God Willing) I'll grow a little taller.
PakPassion.Net: Insha Allah. If that's what you want. But why do you want to grow taller?

Mohammad Irfan:
It's not like I'm 6 foot nothing, if I'm going to be so tall anyway then I'd like to be really, really tall. At this stage a few more inches wont make much difference to me!
PakPassion.Net: (laughs) Ok then Irfan bhai, I really hope that you cross 7 foot in height. Do you know that at your current height of 6'10 you'd be the tallest ever fast bowler and joint tallest ever cricketer?

Mohammad Irfan:
In all the time I've been playing and watching cricket I've never come across anyone as tall as me. If I do get to play first class cricket then it would be great to have a record like that next to my name.
PakPassion.Net: Have you ever seen Joel Garner bowling? He was 6'8 and the perfect tall fast bowler, you could really benefit from watching some of his tapes.

Mohammad Irfan:
I've had his name mentioned to me but I've never seen footage of him bowling. I'd love to see him in action!
PakPassion.Net: I'll have a word with Aaqib and Saboor to get hold of some Garner tapes to show you. Do you think that you're more injury prone because of your height?

Mohammad Irfan:
Not so far. Thank God I've never had any back problems or major issues like that.
PakPassion.Net: What was the injury you got last year that stopped you bowling?

Mohammad Irfan:
It was a groin strain but it's a lot better now.
PakPassion.Net: Have you ever played cricket abroad?

Mohammad Irfan:
In 06/07 I went to play in Malaysia with UBL Bank. Someone put my name forward, UBL called me for trials and I got selected. It was a club level tournament but most of the games got rained out so it wasn't possible to play a lot of cricket.
PakPassion.Net: One of our members thinks that he saw you playing in a 20/20 tournament in Karachi a couple of years ago. Was that you?

Mohammad Irfan:
Yes that was me. I was playing for the AOCC Club at Asghar Ali Stadium in a 20/20 night tournament. I performed really well and our team reached the semi-finals where we got knocked out.
PakPassion.Net: Were there any international players involved and was it televised?

Mohammad Irfan:
Yes there were lots of international players. Younis Khan, Shahid Afridi, Imran Nazir and quite a few others were there too. Only the semi-finals and the finals were televised on Geo Super. He must've seen me playing in the semi-final.
PakPassion.Net: How did you get involved with Nadeem Iqbal's academy?

Mohammad Irfan:
I was playing barefoot for the school team in my small village when Miah Shafqat Zahoor of the Gaggu Cricket Club from Gaggu Mandi saw me bowling. I was already very tall back then and he came to me after the game to offer me a place at his club. He told me that they would train me, give me the proper cricket shoes that I needed and play me in their team. Nadeem Iqbal's academy is linked to the Gaggu Club and that's how I got to know him. I've learnt a lot from him, he's a very dedicated guy who's doing the best he can with the limited resources at his disposal.
PakPassion.Net: Did you ever see Nadeem Iqbal bowling at his peak?

Mohammad Irfan:
No I genuinely regret never seeing him in his youth because even now when he sometimes bowls, you can see how great he would've been at his peak. He's not fast any more but he can still outwit batsmen better than any of us youngsters. It never ceases to amaze me how well known he is on the professional cricket circuit, every time I mention his name people are lining up to praise his bowling!
PakPassion.Net: The last few times I spoke to Nadeem about you (before you came to the NCA), he said that you were very disillusioned with cricket and that you were close to giving up. He said you weren't even coming to nets anymore, were you close to quitting?

Mohammad Irfan:
Well I've been attending trials, playing games and trying to get noticed for several years now. But because I don't have anyone to put in a sifarish (patronage/nepotism) for me, I never get selected. It didn't matter how well I bowled at the trials, without any backing I was never taken on or given a chance. Constant rejection is hard for a human being to take and so I had become disheartened about ever making it. I'd begun thinking that maybe at my age I should be concentrating more on my job than on cricket. If it wasn't for Nadeem bhai's incessant nagging and endless encouragement I may have quit but he's always been there for me. Whenever I was down he'd tell me to keep the faith because one day I'd get that chance to prove myself, it was his belief in my abilities and my potential that got me to where I am today.
PakPassion.Net: Did you think Nadeem was pulling your leg when he told you that Aaqib wanted to see you at the NCA?

Mohammad Irfan:
It was a surreal moment, Nadeem came up to me and started reminding me about how he'd told me to stay positive and that hard work always reaps its benefit. Then he suddenly told me that I should get ready to travel to Lahore because Aaqib wanted to see me at the NCA. The first thing I did was to search his face for signs that he was kidding, then I started laughing expecting him to join in. Nadeem tried to assure me that he wasn't kidding but I remained a little skeptical until he told me Tariq (Mahmood) was coming with me. It's not in Nadeem's nature to play practical jokes but the news was just so unbelievable that I didn't know what to think, still I went home and got ready. Nadeem told me to start bowling again in the nets and to try and get my fitness up but I only had a few days before it was time to go to Lahore. Even when he had already told me to go to Lahore the next day, I called him up that same evening to confirm with him that he wasn't joking, he told me not to worry and that it was all true.
PakPassion.Net: How did he explain PP's involvement to you?

Mohammad Irfan:
He told me that you (Habib) did an interview with him a year ago and that he mentioned my name and height to you. He said he told you that I was a very good left arm fast bowler. Then he said that you did an interview with Aaqib Javed and asked him what he knew about me, he said you asked Aaqib to take a look at me. Then Nadeem said that Aaqib called him up and asked him who the tall fast bowler was that he was getting questions about all the way from London in the UK!! When Nadeem told him about me, Aaqib asked Nadeem to send me to see him at the NCA.
(I explain to him what happened in more detail)
PakPassion.Net: What were you feeling when you finally got to the NCA and met Aaqib?

Mohammad Irfan:
This was the chance that I'd been waiting for and it could even have been my last chance to impress someone who could make or break my career so yes I was nervous at first. However I relaxed after bowling a few deliveries because I could tell that Aaqib was impressed and that helped to ease my nerves. Aaqib told me that I needed to work on my strength because I was quite weak but he also said that he thought I could make it if I was willing to put the effort in. Then he told me to go home, pack my stuff and get back as soon as I could because he didn't want to waste any time in getting to work on me. I couldn't believe this was happening to me.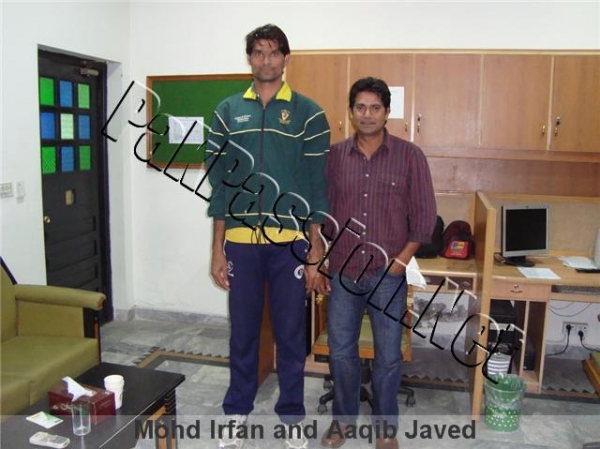 PakPassion.Net: What's the story behind you being clocked at 128k. When you saw the speeds you were clocking did you get scared that you wouldn't get selected?

Mohammad Irfan:
I hadn't bowled in a long time and my fitness wasn't good due to an injury last year, so I knew my speeds would be down. Aaqib asked me if I'd ever been clocked before and so I said no I hadn't. Then he told me that he was going to check my speed, the highest I clocked was 128k but Aaqib told me not to worry because this was down to the fact that I hadn't done any strength training before. He said that if I could clock 135k+ then I would be a very dangerous bowler at any level of cricket due to the advantage of my height and the bounce that I get.
PakPassion.Net: What bowling speeds are you realistically hoping to achieve?

Mohammad Irfan:
Insha Allah (God Willing) by the time I've completed my training I'm hoping to get my speeds upto the 135k to 140k range. I'm really working hard towards getting my pace up there.
PakPassion.Net: So what happened then? You went home, packed and came back to the NCA?

Mohammad Irfan:
Yes, I packed and came back to Lahore. When I arrived at the NCA, Aaqib got the coaches together and they put me through a series of tests. Then they put together a daily training schedule for me, they discussed what my weaknesses where and what I needed to do to redress them. That's what I'm following now.
PakPassion.Net: Is this the first time you've met Aaqib because after seeing you he told me that he thinks he met you a couple of years ago in Karachi.

Mohammad Irfan:
Yes he did, he met me at the National Stadium in Karachi.
PakPassion.Net: How did that meeting come about?

Mohammad Irfan:
It happened when I was playing with the AOCC club in that 20/20 tournament that I mentioned earlier. Nadeem Ashraf and Shafqat Naghmi of the PCB spotted me in the nets and came over to speak to me, the asked me what I did and I said that I was a fast bowler. So they wanted to see me bowl a few deliveries for them, after seeing me bowl they told me to go down to the National Stadium to meet with the coaches of the national team who would be holding a camp there. I went along to the national stadium a few times but no-one was there. I kept checking back and after a few days they arrived. I went in but everyone seemed busy doing something and I didn't know who to approach. That was when Aaqib spotted me, he came over and said 'You're a bit tall arent you, where are you from' so I told him I was from Multan. He asked me if I was a fast bowler, then he gave me a ball and called over a keeper. He asked me to bowl a few deliveries for him, he noticed that I had a few problems and he gave me a few tips and hints about how to fix the issues. When he saw me at the NCA this time he said that I'd implemented his advice well and that if I keep on learning like that then I'd pick things up quickly.
PakPassion.Net: How did it happen that you were seen by Nasim, Shafqat and Aaqib but then you fell off the radar?

Mohammad Irfan:
I dont know about Nasim and Shafqat, you'd have to ask them. Aaqib was in the middle of a camp with matches going on, he only spoke to me because he spotted me and was curious due to my height. He took time out to give me some tips and watch me bowl but then he had to go back to what he was doing. After that I returned to my village in Punjab and never heard anything else. It wasn't until you asked Aaqib to call me down to Lahore that I was noticed again
PakPassion.Net: That's quite scary, one minute you're invited to a camp then next minute no-one knows you exist.

Mohammad Irfan:
Well today I'm back where I was two years ago when I was stood in that camp, in fact I'm now training every day at the NCA so I guess whatever God plans He does it for a good reason. Maybe back then it wasn't my time yet.
Click here to read Part 2